I didn't bring a lunch with me to work today, so by the time I ate it was 2:30. I searched through the fridge for something to eat. I knew right away I didn't want to wait for anything to cook, but I couldn't find anything cold to eat either. Turkey sandwich? No, had that yesterday. PB&J? Nope, had nuts this morning. Salad? No, too much work. As you can see, there was not really much calling to me, but after wasting a bunch of time procrastinating, I finally just decided to have yogurt. It was the only thing I could find that was really quick & easy, and something sweet sounded appealing. I used a Trader
Joe's Vanilla Low-fat Yogurt and mixed in a small box of organic raisins and some granola (
Bear Naked Fit Vanilla Almond Crunch
). It was a light meal but it filled me up for the time being. Later in the afternoon, I had a snack of cheese & crackers (slice of reduced-fat American cheese on reduced-fat Triscuits) along with a Deep Chocolate
Vitamuffin
. I think I'm getting addicted to these Vitamuffins because I seem to want one everyday! At least it's a healthy treat I'm craving though, and not some sort of junk. For dinner tonight I was alone again, so I made myself a healthy personal pizza. I used a whole wheat pizza crust and topped it with tomatoes,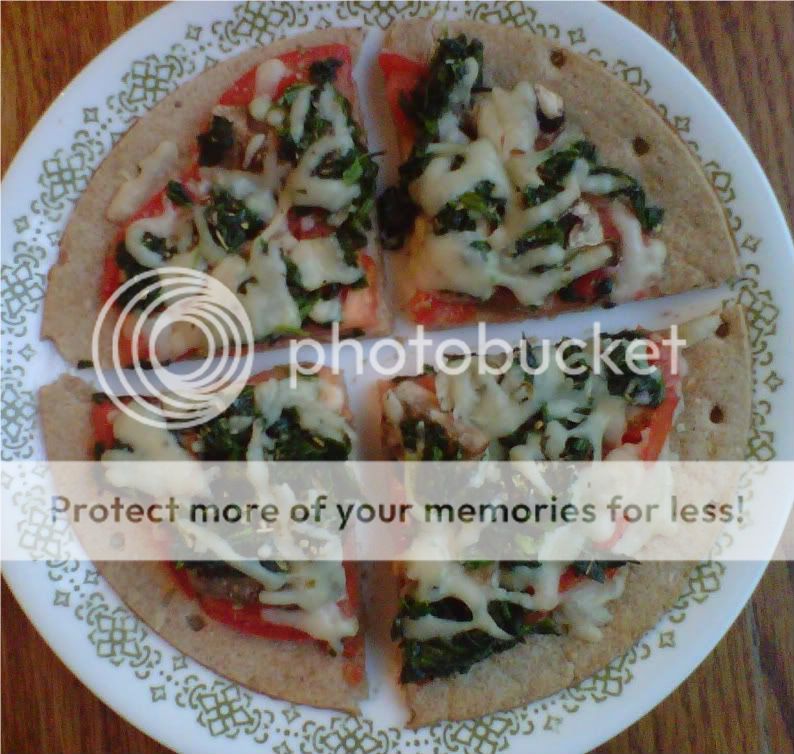 oregano, mushrooms, spinach, mozzarella, and a sprinkle of oregano. The cheese was
Galaxy Soy Mozzarella Cheese
, only because I had no more reduced-fat and I didn't want to use fat-free as it melts horribly. Soy Cheese also tastes a lot more like full-fat cheese and I've found it melts the best as well. My pizza came out quite yummy, and lucky for me, there was nothing to clean up! Now I have some work to get done for tomorrow, and then I plan to get to bed early.